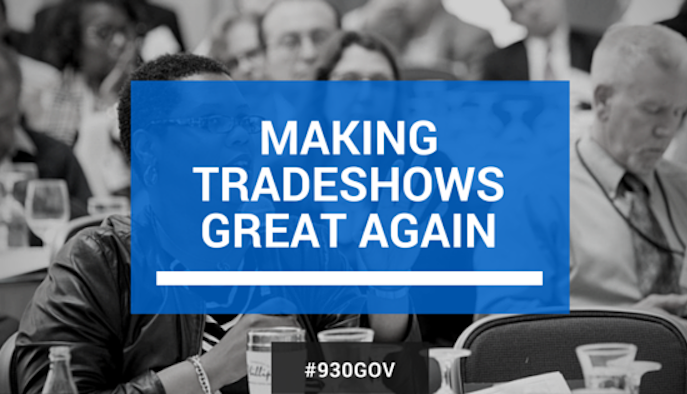 Thirty years ago, the live event government marketplace was a completely different realm. Back then, great tradeshows stalked the earth and the apex predator for federal marketing dollars was an annual "Tradeshow and Conference" filling the prior Washington Convention Center multiple times each year.Fast forward to the present and it's a very different epoch. The apex predator "Tradeshow and Conference" of old is extinct, with not even a single fossil remaining. Today, the government market calendar abounds with a profusion of small mammals—variously known as single vendor "Summits" or single solution conferences held in hotels and related meeting space throughout the DC metro area—with multiple events scheduled virtually every day of the business calendar.
So what happened to the great tradeshow?
Unlike the dinosaurs, the great government "Tradeshow and Conference" wasn't done in by a single cataclysmic event—such as the advent of the Internet. Rather, large tradeshows were diminished by smaller factors including: lack of focus and management attention, mergers and acquisitions, and greed. Combine that with the inability of established tradeshows to adapt to changing market dynamics resulting in declining attendance. Meanwhile, tighter ethical guidelines and government travel restrictions made attending multi-day, large horizontal events risky.
But more than anything else, the scale and complexity of the challenges government agencies faced grew beyond the plausible scope of even the grandest tradeshow. Thirty years ago the large government tradeshows were focused on products; vendors used the event to announce new products and services. At a time when agencies were trying to stand up local area networks, connect network printers, and get email to everybody, it made sense to convert the convention center into a giant, one-stop mall for IT products and related services.
With Moore's law in full effect, computers and other IT products were improving dramatically from year to year justifying annual participation. The large tradeshow enabled buyers to see, touch, and try the full range of their IT options, all in one place, all at one time—it was a win-win for both agency personnel and vendors.
But over time, the focus shifted from the desktop, beyond the LAN, to the enterprise and beyond. Products that were once innovations became commodities. Today, few IT leaders are going to leave their office to address challenges that can be solved by purchasing a product. They can jump online, investigate and click "Buy."
As the emphasis shifted away from products with vendors using other media formats to make new product announcements, the large events started to decline in exhibit space and attendance. Instead of updating the tradeshow format, show organizers stuck with the old formula of trying to be everything to everybody—using taglines like 'Technology Unites Us"—leading to lost exhibitors and attendees. The same goes for hard-pressed publications scrambling to replace declining magazine advertising revenue. The transition from an industrial economy to the information based economy continues to destroy many prior successful business models.
Split off from the mammoth-sized exhibition, in the past 15 years "small mammal" sized events filled up the event calendar (small mammal event defined as a one day/ half day solution specific events). The value of these events vary greatly with multiple alternatives happening each week or in some cases the same day. Unfortunately, many are just elaborately concealed sales pitches.
Making tradeshows great again
So how can the classic tradeshow be revived? Should they be revived? The answer is definitely "yes" but only if the tradeshow evolves into a new form and format. Tradeshows must move away from broadcasting information vendors want to convey to building communities, and start facilitating conversations agency professionals want and need to hear. To be of any great value, tradeshows must essentially become a dynamic form of live, in-person social media.
The new tradeshow is a platform and venue for gathering communities of interest for discussion and networking. It's where professionals can gather to engage with one another as well as with subject matter—with ample time for deeper dives, face-to-face networking, and nuanced conversations that are difficult to replicate online.
To function in this way, tradeshows must be organized to support the ongoing work of government technical communities. The work goes on every day, all year, in all sorts of ways, in all different agencies. The new tradeshow exists to summarize and surface all of that work for review and discussion among the community as a whole. Following the tradeshow, now armed with up-to-date, holistic perspective, the community can get back to work equipped with new ideas to tackle another year.
The new tradeshow is part of the process of advancing the work. Which means the content, speakers, and formats must be curated by someone who is intimately familiar with the people, projects, and subject matter that truly matter within technical communities. The result of that familiarity is the essence of the new tradeshow: specific, contextual, and relevant. Sustaining that relevance over time is the primary qualification for greatness.
A great tradeshow is one that consistently delivers great value and can adapt to the constantly changing environment.
In this way, tradeshows can resurface and be great once again.