Cloud Computing CONFERENCE & EXPO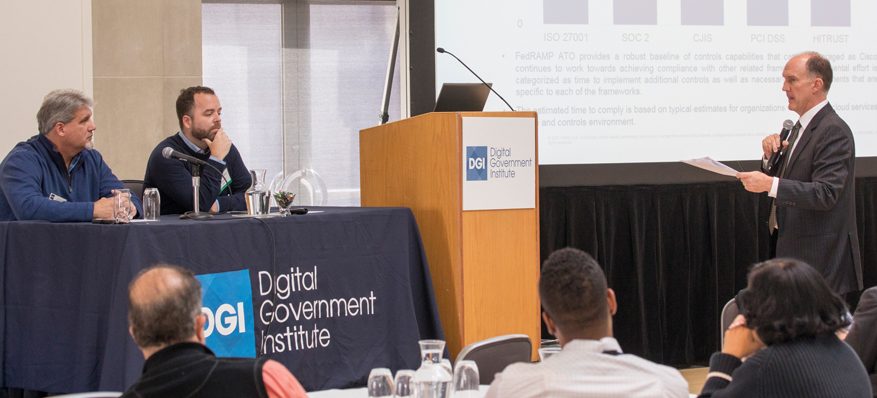 Overview:
Cloud Computing continues to grow in importance in the public sector. Agency personnel responsible for developing and implementing cloud-based solutions — for implementing data center consolidation and other technology efficiencies — continue to look for opportunities to learn about the best technologies, configurations, service and deployment models and appropriate mix of cloud services — based on their government agency requirements.
Digital Government Institute's 13th Government Cloud Computing Conference — which is free for government attendees — will review the variety of platforms and solutions available, highlight the federal government success stories, and provide a roadmap of how those responsible for implementing cloud-based technologies can evaluate the options and choose the best solutions for their agency.
ATTENDEE FEEDBACK:
"Conference was well organized. Presentations were given by dynamic speakers and provided relevant content to my organization. Meeting location and food were excellent."
"Almost did not attend but it was time well spent. Generating many discussions back in the office."
"The organization and presentation were really great. The presenters were excellent and I really gained a lot from the conference."
"Terrific agenda and presenters. A lot of value derived."
"The speakers brought a different perspective highlighting that diversity prevents stagnate thinking on old-age problems."
"Good mix of DOD, civilian, and non-gov presenters. Good vendors at the tables. Lunches at the venue for networking and to pack the day with info."
By November 29
Government*: FREE
Industry: $295
After November 29
Government*: FREE
Industry: $395
* Includes contractors with valid government email and photo ID.
Location:
Ronald Reagan Building

1300 Pennsylvania Ave. NW
Washington, DC
The Federal Triangle metro stop (orange/blue/silver lines) is located on site.