Every month, Digital Government Institute will profile an Education Advisory Committee ("EAC") Member. DGI's Inaugural Interviewee is FTC's David Shonka who serves on DGI's E-Discovery, Records & Information Management EAC. We hope you join us Thursday, March 22, 2018 in Washington, DC for the 15th annual E-Discovery, Records and Information Management Conference.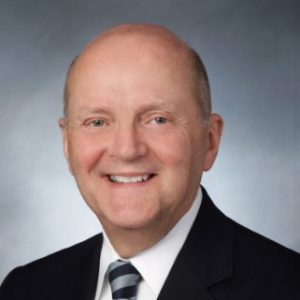 David C. Shonka has been the Acting General Counsel of the Federal Trade Commission since March 2016. He has served in that position twice previously (January – June 2009 and October 2012 – June 2013). The FTC's General Counsel is the agency's chief law officer and adviser. He is also the agency's Principal Deputy General Counsel. In both roles, Mr. Shonka provides legal services that cover the full range of the Commission's activities, from appellate litigation to internal operations, including counseling on legislation, ethics, and administrative matters. He has also personally represented the Commission in numerous district court and appellate proceedings.
Mr. Shonka is a member of the Administrative Conference of the United States, where he serves on the ACUS Committee on Judicial Review and the Council of Independent Regulatory Agencies; and he is an active member of the Sedona Conference, where he serves on the Steering Committee for Working Group 6 (cross-border transfers of data), has served on the Steering Committee for Working Group 1 (e-discovery and electronic records), and participates in projects for Working Group 11 (privacy and data security). He also speaks frequently on issues relating to privacy, data security, cross-border transfers of information, e-discovery, government investigations, and other regulatory matters. In 2015, Mr. Shonka received the Presidential Rank Award of Meritorious Executive, one of the highest honors available to members of the Senior Executive Service.
How long have you been at your Agency and what do you do there?
I joined the Federal Trade Commission in February 1977 –so going on 41 years. I am the Acting General Counsel and have oversight of a legal office of about 50 people who defend the Agency and provide legal advice to the Commission. In describing our office to prospects, I say we are 3% of the budget and 5% of the personnel doing 100% of the work.
What is the hottest topic being discussed at the Agency?
FTC has a sweeping mandate within our two mains areas: competition and consumer protection. From my personal perspective, I think the hottest competition issues concern healthcare, pending mergers of all sorts, pharma, and Intellectual Property. On the consumer protection side, I think all of them are interesting, but personally tend to get most excited about data security and privacy and related matters.
What will people at your Agency be confronted with the next 3-5 years– what opportunities/hurdles (especially with respect to Robots, chatbots, Artificial Intelligence, etc.)?
I think our hurdles will be harnessing technology within the confines of limited budget and resources. The greatest opportunity with respect to technology (Data Analytics, Technology Assisted Review, Artificial Intelligence) lies in its ability to improve efficiencies and provide better workflow and security.
What is your funniest/fondest memory/What are you most proud of during your government service?
My fondest memories are of those times when a small group would be working intensely on a case (long hours, nights and weekends) and would produce a quality product. Contrary to what many people seem to think, the government isn't a gigantic monolith—very often, it is out-resourced by the other side. A former colleague of mine said it well when he commented (more than once) about the pride he felt in being able to stand up in a federal court and say that he was there on behalf of the people of the United States.
What are your top three recommendations for others entering the discipline within government?
Always look around for unmet needs—my own involvement in e-discovery and security are examples of this. A privilege issue I was asked to look into spurred more involvement in e-discovery, which was becoming very important at that time. Later, when the 2006 Amendments to the Federal Rules of Civil Procedure were about to take effect, I (and many others in the Agency) thought it critical that all of our attorneys take a consistent approach to e-discovery in the scores of cases that we have pending at any one time. We organized ourselves to make sure that happened.
Own and correct your mistakes.
No matter what, keep your eye on the ball—ask, what really matters here