Every month, Digital Government Institute will profile an Education Advisory Committee ("EAC") Member. This month's Interviewee is the Chief of the Open Source Intelligence & Analytics Team, Army G-2 for Intelligence, Victor Robles who serves on DGI's Cyber Security EAC. We hope you join us Thursday, May 31, 2018 in Washington, DC for the 11th annual Cyber Security Conference.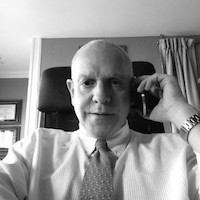 How long have you been at your Agency and what do you do there?
I serve as Chief of the Open Source Intelligence & Analytics Team, Army G-2 for Intelligence. For the last 15 years, I've focused on document and media exploitation, including computer forensics. We've evolved to include open source intelligence—the advent of Internet has greatly expanded our role. The US Army is leading the way with what it's doing with Open Source.
What is the hottest topic being discussed at the Agency?
The hottest topics include Open Source Intelligence and the role the Army plays into getting into the Dark Web to help enable intelligence disciplines—integrating more and more with cyber. With respect to cyber, asymmetrical adversaries are using social media and computer networks for their command and control and information operations campaign, we help the community understand implications of publicly available information and social media exploitation.
What will people at your Agency be confronted with the next 3-5 years– what opportunities/hurdles (especially with respect to Robots, chatbots, Artificial Intelligence, etc.)?
We are at the tipping point for the next evolution in Open Source Intelligence described by environmental terms such as Big Data, Data Science, and Artificial Intelligence (AI). Our future will be impacted by AI—that derivative of AI—machine learning—enables us to perform predictive analysis. This environment is an unfathomably large, yet proven, source of information containing immense intelligence value. We are making efforts to better integrate with the science and technology communities that relate to AI. Rapid improvements in technology enable populations and nation states with an increasingly more powerful means to share, manipulate, and generate publicly available information. The National Open Source Committee and Defense Open Source Council offer the intelligence and defense communities an enterprise solution by providing tools, training and promoting information sharing.
Our biggest hurdle is making sure everyone is working in an integrated way to use AI.
What is your funniest/fondest memory/What are you most proud of during your government service?
The brotherhood created by shared experiences, in wartime, creates a unique bond. This bond, as well as enduring memories, present themselves throughout a person's government service career especially when deployed. My fondest memory was when I was deployed being able to bring technology into theatre that allowed us to save lives based on intelligence we collected and shared across the force.
What are your top three recommendations for others entering the discipline within government?
Ensure you have proper education and certifications for cyber, intelligence, etc.
If you desire to be in the Intelligence field, ensure you "keep your nose clean"
Make sure you have a passion for the work—that will drive you to seek additional knowledge and help the community grow